USP Law School Bible studies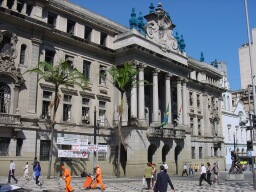 These typically happen during the 15 minute breaks between classes. I know thats not much time, but it is really all we have to work with. The attendance has ranged from three to eight so far. We usually just pick a passage of scripture, read it, make a commentary on it, and pray. After that we hang around with the students, if any, who don't have class. The picture on the right is the USP Law School.
USP Dorm Bible study
In June we had several weeks of English Workshops. This Bible study has grown out of these workshops as a place where the students can continue to practice their English by studying the Bible. It happens on Tuesdays at 5:30 in the community kitchen of one of the dorm buildings on the main USP campus.